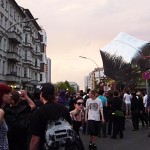 Sous les pavés, la plage.(Under the pavement, the beach.)
Streetgraffiti from the french '68 movement
On the 25th revolutionary 1st of May demonstration in Berlin-Kreuzberg, protesters were throwing huge inflatable cobblestones, made of silver-reflective foil and tape.The creative intervention was initiated by the artivist collective "eclectic electric collective" (e.e.c.) and was meant as a celebration of an object which is both a symbol and a material weapon of anti-authoritarian struggle everywhere. It also aimed to bring new strategies of tactical frivolity into the demonstration.
A member of the collective explains:
Through 25 years of riots, the cobblestone has become an icon for protests at the May 1 in Berlin Kreuzberg. The use of cobblestones in social uprisings is however much older: from ancient Rome, to the Paris Commune in 1871 to the ´68 movement, cobblestones have been used for barricades and as a weapon of defense. Taking stones out of the pavement is a favoured act of those who refuse to consent to an oppressive social order.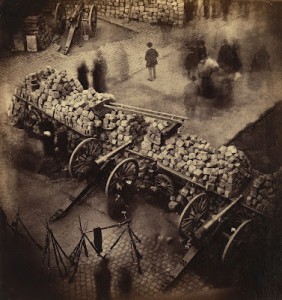 The May 1st demonstration in Berlin has long been a testing-ground for police tactics of crowd control and restrictions on protest. This year, 7000 highly-armed and aggressively shielded cops matched some 15 000 protesters, who were warned that a new water cannon, with a 10 000 L water-capacity, would be ready to be used against them.
The inflatables are a collective creative intervention against this growing repression of protest and dissent, in ways that are both concrete and as well as symbolic. The experiences of the inflatables on May 1 proved their many uses in situations of protest, which can be summarized by the term "tactical frivolity". Inflatables bring celebration and play to a demonstration while at the same time having strategic functions in situations of conflict…
Watch Video below:

Inflatable Cobblestones Berlin Part 1 from Artur on Vimeo.